Cape Breton Jazz Festival 2023
Friday, June 9, 6 pm – 9 pm.    Doris Mason Quartet 
Opening Act: Carl Getto Jazz Band: Swingers and Singers
Location Daniels Alehouse, Sydney, Ticket Price: $40
Doris Mason performed to a packed house six years ago at the Cape Breton Jazz Festival. This show has been touted as one of the most entertaining shows in the Jazz Festival's 10 year history. On this return engagement, Doris brings her entertaining vocal and piano style to Sydney with her Halifax based quartet.
The Carl Getto Jazz Band: Swingers and Singers is Cape Breton's busiest jazz group with an eclectic group of instrumentalists and vocalists. This band often plays before full houses of regular fans weekly at Daniels' Alehouse in Sydney.
Friday, June 16,    6 pm – 9 pm.     Barbra Lica Quartet
Opening Act: Joe Waye Trio 
Location Daniels Alehouse, Sydney, Ticket Price: $40
Barbra Lica has been called one of the top five Canada's top jazz vocalists by CBC Radio. In 2013 Barbra was first runner-up in the Sarah Vaughan International Jazz Voice Competition. Based in Toronto, Barbra plays regularly with many of Canada's top jazz musicians, including members of her own quartet which she will bring from Toronto to Sydney.
The Joe Waye Trio has been a influencing force on the Cape Breton Jazz Scene for more than 40 years. Joe Waye is Cape Breton's most recognized jazz guitar players who at last year's Festival had the opportunity to share the stage with Canadian jazz legends Neil Swainson and Lorne Loftsky. Joe will be joined by two of Cape Breton's best Red Mike MacDonald on bass, and Johnny Hawkins on drums.
Sunday, June 18, 5:00 pm – 8:00 pm. Cape Breton Jazz Various Performers 
Location Daniels Alehouse, Sydney, Ticket Price: $20
This special Sunday outdoor show will give many of local jazz players an opportunity to perform at the Festival. Be sure to take in this show if you want to see an eclectic show of various performers and groups.
Friday, June 23 6 pm – 9 pm.         SheJamBlues
Opening Act: Carl Getto Jazz Band: Swingers and Singers
Location Daniels Alehouse, Sydney, Ticket Price: $40
She Jam Blues is an all-female seven member jazz band based in Halifax, and consists of some of the top jazz performers in eastern Canada. Krisanne Crowell, vocalist and saxophonist, has put together this eclectic band of female performers, some who have been featured players for decades along with others who are beginning to make an impression on the east coast jazz scene. Be prepared for lots of vocals and standout instrumental performances. 
The Carl Getto Jazz Band: Swingers and Singers is Cape Breton's busiest jazz group with an eclectic group of instrumentalists and vocalists. This band often plays before full houses of regular fans weekly at Daniels' Alehouse in Sydney.
Late Night Jazz Jams
Friday June 9, Friday June 16, and Friday June 23
Join us after the earlier evening's main show for the popular late night jazz jam from 9:30 pm to 12:30 at the Hearthstone Inn Pub on Kings Rd. in Sydney. No cover charge. All jazz players and all jazz fans welcome to drop by to participate and enjoy the evening. For further information on the late night jazz jam contact Carl at 902-565-1092.
Ticket Information: Starting on May 15 tickets can be purchased 
for all shows by visiting or phoning Daniels Alehouse at 456 Charlotte St. in Sydney. 
Workshopping Your Songs with a Band
Presented by Barbra Lica, Jazz Singer, Composer, Arranger
 Saturday, June 17, 2023, 9 am to 12 noon 
Hearthstone Inn, Kings Rd. Sydney. Pre-registration required. Registration Cost $50
The Barbra Lica Quintet will workshop select songs/arrangements submitted in advance by workshop participants. Together we will bring your song selections to life with a real-life quartet (piano, bass, guitar and drums), fine-tuning melodies, chords, and lyrics while searching for optimal tempo, key, and instrumental parts. Our group will highlight elements of contemporary song structures and examine effective use of re-harmonization, ostinato patterns, and repetition. This workshop is a unique opportunity for new and established performers and/or songwriters to emulate the pre-production process and receive feedback from a professional recording musician. Appropriate for high school and post-secondary level students as well as adults with basic music/composition/arranging experience. Jazz standards and original compositions both welcome!  For further information or to register contact Carl Getto at capebretonjazzfestival@gmail.com or at 902-565-1092.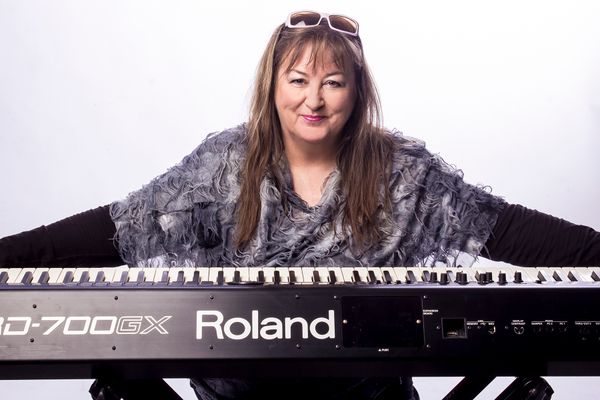 Doris Mason Information
                           Doris Mason Friday, June 2 2023 6 pm to 9 pm at Daniels Alehouse
Doris Mason who hails originally from Pictou County, Nova Scotia, and later from Halifax, Nova Scotia has been a renowned vocalist and pianist playing the eastern Canada music and beyond for over 40 years. 
Several years ago, Doris performed at the Cape Breton Jazz Festival to a full-house at Cape Breton University, playing a show based on Ella Fitzgerald's music.
In her earlier days of playing, Doris spent much time touring throughout Cape Breton, meeting Cape Breton musicians and music fans who always remember her as someone who gives an entertaining show. As Doris relates: 
"I first performed in Mabou, Cape Breton, with my band at the Hall there. Before setting up we stopped by and had a visit with the Beatons. 
The prior summer, I had jammed with the Cape Breton Symphony at the Montreal Olympics. I remember John Morris Rankin, of the renown Rankin family, and myself taking turns on the piano until the wee morning hours. 
My next major visit to Cape Breton was with the Mason Chapman Band. With Bruce Chapman and myself both on keyboard, along with a band, we played across the Island from Port Hawkesbury to Margaree to Sydney,
Following the Mason Chapman touring, I was approached by Steve MacDonald to take part in the 'Rise and Follies of Cape Breton.' Afterwards I then spent nine years with the Cape Breton Summertime Revue.
After the Revue, I recorded the CD called 'Photograph' which received an ECMA nomination.
Later, I was fortunate to open for Dionne Warwick when she played in Halifax. At another point I put together a touring band which featured Denny Doherty from the historic group Mamas and Papas. We presented his show called 'Dream a Little Dream', touring throughout Eastern Canada and the United States for 10 years. Richard Burke from New Waterford, Cape Breton, was an active member of this show, playing multiple instruments and singing the classic songs. The show had major runs in Halifax, Toronto, Cleveland, New York City, including performances in Kansas City, St. John's, Newfoundland, and the Savoy Theatre in Glace Bay.
I also had the opportunity to be musical director and performer in the show "Drum' which was a cultural spectacle of Native American, French, Celtic and African histories from throughout the Maritimes. The show actually played for former American President Barack Obama when he visited Halifax."
For her June 9 gig at the Cape Breton Jazz Festival 2023, Doris will bring an outstanding group of musicians to assist her in showcasing her vocal and piano style. 
A special feature of Doris' bandmates will be drummer Steve Gaetz who is one of the top jazz drummers on the east coast music scene. What makes Steve's relationship to Cape Breton special is that he was the drummer for the Cape Breton Summertime Revue for several years. Steve also has had the distinction of studying jazz at St. Francis Xavier University in Antigonish, and having performed with The Big Band of the University of Miami.
During her Cape Breton Jazz Festival show on June 9 Doris will be playing original material from her recordings, classic jazz gems and some new compositions that will be presented in Sydney first. As well, she'll be paying her tribute to Sydney jazz legend Rudy Pace-with the tune "Rudy's Den", while providing piano and vocal scat solos
Joining Doris on guitar will be James Logan who studied at St. Francis Xavier University in Antigonish and who has played with Doris over the last two decades in the show DRUM!, Nova Scotia's Multi-Cultural Music Spectacle. James is also a sound engineer and has his own studio. J H L Productions.
Larry Bjornson will be manning the double bass. He is mega-talented and has studied at McGill in Montreal and Wayne State University in Detroit. Significantly he performed with the famous band "The Moody Blues", and has also backed up personalities like Joan Rivers, Regis Philbin and is now stationed in Halifax with "The Stadacona Band of the Royal Canadian Navy", as well as playing weekly jazz shows in downtown Halifax.