Canadian Jazz Legends at Cape Breton Jazz Festival 2022 June 16-19
CANADIAN JAZZ LEGENDS AT CAPE BRETON JAZZ FESTIVAL JUNE 16-19
Several Canadian Jazz Legends are confirmed to perform at this year's Cape Breton Jazz Festival 2022 from June 16-19. Jazz icons saxophonist Kirk MacDonald, guitarist Lorne Lofsky, bassist Neil Swainson, and drummer Jim Doxas are top Canadian jazz musicians who will be onsite and playing at the Festival.  Lorne Lofsky will play on Thursday June 16 The Kirk MacDonald Quartet with Lorne Lofsky will play on Friday June 17, then the Kirk MacDonald Trio will play on Saturday June 18. Swainson and Doxas will be on bass and drums respectively for both of Kirk MacDonald's shows. Tickets go on sale June 1. Check back to this website for further information on scheduling, venues, and ticket sales.
Daytime shows and late evening shows will also be held. Details will be released shortly.
Meanwhile bassist Paul Rushka, instructor at St. Francis Xavier University, and Ethan Ardelli, one of the most active drummer on the Toronto jazz scene, have confirmed they will be playing the Festival. Rushka and Ardelli will comprise Lofsky's trio on June 16. Meanwhile the Heartstone Inn, on Kings' Rd in Sydney, NS, have agreed to be the Festival headquarters, housing the musicians and presenting shows.
With such an outstanding quality of musicians participating, this year's Festival, for the first time, will present extended learning and playing workshops for anyone interested in improving their understanding of the skills required to play jazz, both vocal singing, and instrument playing. The workshops are open to everyone but you must register. For further information on this workshop contact Carl at capebretonjazzfestival@gmail.com.    
Festival Schedule 2022
Thursday June 16
Daytime: Music Workshops at Hearthstone Inn, Kings Rd. Sydney
Dinner Jazz: 4 pm - 7 pm Location TBA
Evening Highlight Show. 8 pm Taproom Restaurant, Sydney, NS.  Lorne Lofsky Trio with Paul Rushka on bass and Ethan Ardelli on drums. Guest appearances by Joe Waye and Malcolm MacNeil. Ticket Price $35.
Late Night Jazz: 10 pm - 1 pm: Various Jazz performers. No Admission Charge. Location TBA
Friday June 17
Daytime: Music Workshops at Hearthstone Inn, Kings Rd. Sydney
Dinner Jazz: 4 pm - 7 pm Location TBA
Evening Highlight Show.  Venue and Time TBA. Sydney, NS.  Kirk MacDonald Quartet with Lorne Lofsky on guitar, Neil Swainson on bass, and Jim Doxas on drums. Ticket price: $40
Late Night Jazz: 10 pm - 1 pm: Various Jazz performers. No Admission Charge. Location TBA
Saturday June 18
Daytime: Music Workshops at Hearthstone Inn, Kings Rd. Sydney
Dinner Jazz: 4 pm - 7 pm Location TBA
Evening Highlight Show. 8 pm Taproom Restaurant, Sydney, NS.  Kirk MacDonald Trio with Neil Swainson on bass, and Jim Doxas on drums. Possible special guests. Ticket price: $35
Late Night Jazz: 10 pm - 1 pm: Various Jazz performers. No Admission Charge. Location TBA
Sunday, June 19
Morning: Music Workshops at Hearthstone, Kings Rd. Sydney
Afternoon: 1:30 - 4:30 pm location TBA. Carl Getto Jazz Group plus special guests. No Admission Charge.
Full Festival Schedule To Be Released June 1 2022. Other shows may be added. 
2022 Festival Music Workshops 
Jazz Festival 2022 Offers Learn to Play Workshops For Singers and Instrumentalists
If you are interested in learning to sing jazz or play jazz then this opportunity is for you.
This year the Cape Breton Jazz Festival, June 16-19 2022, will place emphasis on music instruction by having several days of musician development workshops during the Festival.
Anyone interested in learning to sing or play jazz are invited to attend the workshops which will provide instruction and helpful information on playing jazz music. Both beginning players/singers and advanced players/singers are welcome to take part. All instruments are welcome.
Some of the instruction during the three days of workshops may be given by some of the top jazz musicians in Canada, such as Kirk MacDonald on saxophone, Lorne Loftsky on guitar, and Neil Swainson, on bass, along with Ethan Ardelli and Jim Doxas on drums. All are performing at this year's Festival.
Also some of Atlantic Canada's top jazz musicians may participate in the workshops. Players such Paul Tynan on trumpet, Tom Easley and Paul Rushka on bass, Steve Luxton and Joe Waye on guitar may be some of the musicians providing instruction. We're also excited to present this year singing workshops taught by with Antonia Pigot, a jazz vocal teacher from Halifax, providing instruction.
The workshops will be held on Thursday June 16 from 1:30 pm to 4:30 pm then will continue on
Friday 10:30 to 1 pm and on Saturday from 10:30 to 1 pm. For those interested there will also be opportunities to play on stage during one of several public playing opportunities. Public performance opportunities will be held each of these three days, both during the afternoons from 4 pm to 7 pm and in the evenings and from 10 pm to 1 am. The schedule will be adjusted depending on the number of performers on each instrument.
The workshops will be held at the Hearthstone Inn on Kings Rd in Sydney. For instrumentalists, aspects of instruction will include such topics as: following the jazz form, understanding chord changes, different ways to improvise, learning tunes, performing tunes, playing with others, playing the blues, and so on.
The Jazz Vocal Workshop will cover topics such as vocal jazz style, rhythmic and harmonic awareness, lyric interpretation, vocal exploration, improvisation and group and solo performance.
There will be no better opportunity for anyone to learn how to play jazz. All skill levels and all ages welcome. Spectators welcome also.
For those workshop participants registering early scholarship funding will be available. As a result there will be no charge for workshop participation. The scholarship will cover the full cost of the workshops as well as providing participants will a free shared hotel room for three nights. But players must register early to take part. Registration is limited. To register send an email to Carl at capebretonjazzfestival@gmail.com. Provide him with your name, your instrument, your music background, and what you would like to learn. You can contact him with questions also. Keep checking the Festival's website at capebretonjazzfestival.com for further information. Deadline for workshop registration is Friday, June 3 2022. Late registration may be possible depending on the number of instrumentalists already registered. For additional Festival information go to capebretonjazzfestival.com.
Kirk MacDonald
With an established reputation as one of Canada's leading saxophonists, Kirk MacDonald cut his first record at the age of thirteen. Throughout his career, he has received numerous awards, and has worked with many leading musicians in a variety of musical genres. He has performed on over fifty CDs as both leader and side- man, and has participated in numerous national broadcast recordings for CBC Radio. In addition to performing extensively throughout Canada, he has also performed in the USA, Spain, France, Italy, Holland, Monaco, Aus- tralia, Korea, Bermuda, and the Bahamas.
For over thirty years Kirk has worked and recorded with a 'whos who' of great jazz players, including many leading Canadian, U.S. and International jazz musicians including Claude Ranger, Dave Young, Sam Noto, Sonny Greenwich, Kenny Wheeler, Eddie Hender- son, Harold Mabern, Walter Bishop Jr., Tom Harrell, Lorne Lofsky, Bob Mover, Pat LaBarbera, John Taylor, Ron McClure, Jack DeJohnette, Mike Stern, Jim McNeely, Bob Mintzer, Vince Mendoza, John Clayton, Chris Potter, Glenn Ferris, Maria Schneider, Dave Grusin, Danilo Perez, Adam Rogers, Dennis Mackrel, Nancy Walker, Barry Romberg, Andre White, Rob Smith, Brian Dickinson, Denny Christianson, Bernie Senensky, Phil Nimmons, James Moody, Rosemary Clooney, Humber College Faculty Ensemble.
Kirk has won numerous awards during his career, including a Juno Award. Kirk has taught extensively throughout his career. He has participated many learning workshops, and will be participating in the workshop in Cape Breton in 2022.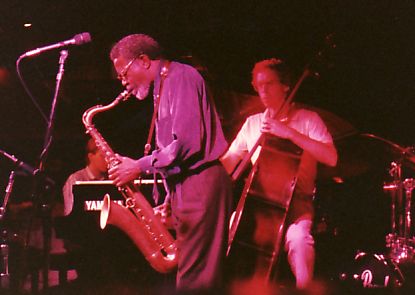 Neil Swainson
Swainson has become a leading Canadian jazz player since the 1980s when he started playing with famous local and visiting acts which include, Tommy Flanagan, Rob McConnell, Ed Bickert, Slide Hampton, James Moody, Jay McShann, Moe Koffman, Lee Konitz, Joe Farrell, George Coleman, and Woody Shaw. He went on to collaborate with Woody Shaw appearing on two of Woody Shaw's recordings: In My Own Sweet Way (In & Out 7003) and Solid (Muse 5329). He also toured with Shaw often in New York and on many European tours.
A collaboration between Swainson and pianist George Shearing would form in 1986, after Swainson replaced Don Thompson in 1988. This relationship continued until Shearing's passing in 2011. They have travelled playing all across North America, Great Britain, Europe, Australia, Hong Kong, and Japan. They played with musicians including Joe Williams, Nancy Wilson, Diana Krall, Robert Farnon and Mel Tormé. Together the two made numerous recordings which include: A Perfect Match (with Ernestine Anderson, (Concord Jazz 4357), Dexterity (Concord Jazz 4346), Mel & George "do" World War II (Concord Jazz 4471), I Hear a Rhapsody (Telarc 83310), How Beautiful is Night (with Robert Farnon, Telarc 83325), Walkin' (Telarc 83333), That Shearing Sound (Telarc 83347), Joe Williams: A Song Is Born and Paper Moon (Telarc 83375)
Swainson's recorded his own album; 49th Parallel (Concord Jazz 4396) in 1987. His recordings feature Woody Shaw on trumpet, and Joe Henderson on saxophone along with numerous other musicians such as Jay McShann, Geoff Keezer, Doc Cheatham, Sam Noto, Don Thompson, Peter Leitch, Pat LaBarbera, Joe LaBarbera, Rob McConnell, Ed Bickert, Lorne Lofsky, Kirk MacDonald and JMOG, a cooperative band featuring, Kevin Dean and Pat LaBarbera.
Swainson has also recently toured worldwide with the singer Roberta Gambarini and as well with pianist Gene DiNovi in Japan. He recorded: So In Love (Marshmallow MYCJ30118) and Golden Earrings (Marshmallow MYCJ30185) and recorded Smile (Five Stars Records FSY-501) and Gene DiNovi at Red Brick Warehouse Live in Yokohama (Marshmallow MMEX-103).[2] Swainson now works at Humber College (Lakeshore Campus) as a professor in the Bass department after receiving a music degree. He also continues to compose music and freelance in Toronto.[3]. (Neil's information is courtesy of Wilkipedia)